Sign Up for Free Emergency Response Training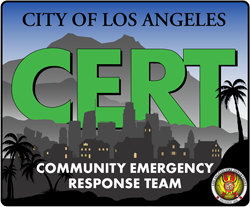 The Harbor Gateway North Neighborhood Council is sponsoring a series of seven CERT (Community Emergency Response Team) classes at the 135th Street School Auditorium. The classes begin on Wed. October 30 at 6:30 pm and are free of charge. You must be 18 years of age or older to attend. Those completing the seven sessions will receive a certificate of completion and a basic emergency kit from the Fire Department.
Classes cover how to suppress small fires, basic first aid, evacuation tactics and how to collaborate with City agencies, search and rescue tactics, and how to communicate, including use of radios.