Committee Seats Are Available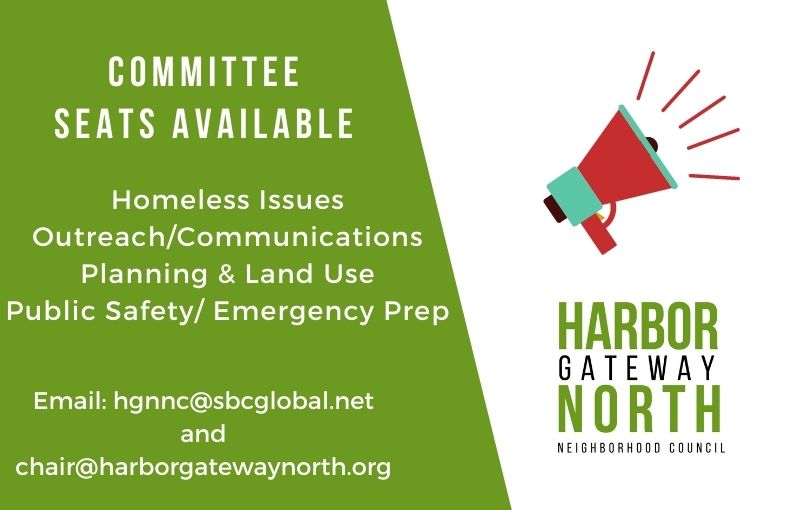 The HGNNC has vacancies on four Committees, which we hope to fill at the next meeting.
Homeless Issues Committee (2 vacancies; one could be a Board member) This Committee assesses the current homeless situation in the HGNNC, hears from service providers, and recommends resources/solutions
Outreach/Communications Committee (1 vacancy) This Committee works to promote and inform the community about the activities of the HGNNC and encourage stakeholder participation. Plans HGNNC outreach events and approves other events and initiatives to support and participate in. Plans various methods of publicity for events and the Neighborhood Council in general, including website and social media.
Planning and Land Use Committee (1 vacancy) This Committee reviews proposed development projects which require additional City hearings/approvals that are located within the HGNNC boundaries, evaluates Citywide planning and land use policies and statewide policies which will impact planning and land use, including Community Plan updates, and provides recommendations to the full Board. Meets on the fourth Thursday of the month. Each member must complete a two-hour training to remain on the Committee.
Public Safety/Emergency Preparedness Committee (1 vacancy; could be a Board member) This Committee discusses LAPD services, preparedness for major emergencies, and traffic issues relating to vehicles, bicycles, pedestrians, and street calming measures
Please email us your interest or further questions about this seat: hgnnc@sbcglobal.net and chair@harborgatewaynorth.org.