Accessory Dwelling Units Assault Single Family Zoning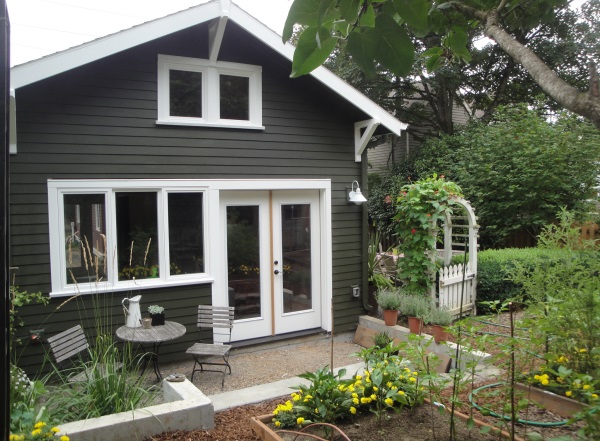 The ADU Bills nearly universally represent incremental assaults on single family zoning and historic districts and HPOZs.
THE ADU BILLS: I think there are too many to just say no so on balance, I would support the lone Senate bill SB 13 (Wieckowski)
***Of Most Concern: AB 587 (Friedman) and AB 670 (Friedman) both assigned to Senator Wiener's Housing Committee and already set for hearing on June 4, 2019. If passed by housing committee, AB 587 goes to Senate Governance & Finance. AB 670 is also set for hearing on June 4, 2019 and already was extensively amended in the Senate Housing Committee to make it even worse (from my perspective) so it will likely pass to the Judiciary Committee. PLEASE NOTE: NO HISTORIC PROTECTION UNLESS ON STATE REGISTER. SACRAMENTO SHOULD NOT BE SUBDIVIDING ALL SINGLE-FAMILY ZONING BY STATE FIAT, INCLUDING IN PLANNED COMMUNITIES, NO MATTER WHAT THE CONDITIONS ARE. OPPOSE.
+AB 587 permits the an ADU to be severed from the primary residence for sale with a lot of niceties around it about how it is just an enabling ordinance that permits local jurisdictions to enact an ordinance permitting the separate sale if built by a nonprofit, only applies to recorded covenanted affordable housing, etc. But this is what has been happening with land use legislation. A fundamental concepts creeps into law in year 1 with all kinds of conditions that make the medicine go down (SB 35 anyone?) and then the very next year or the year after, a bill is introduced to alter or erode those conditions.
+AB 670 invalidates all covenants, deed restrictions or any other provisions in planned communities or other common interest developments that would "effectively prohibit" or "unreasonably restrict the construction or use" of an ADU or a junior ADU on a single family zoned lot. The "effectively" and the unreasonable restriction language was added BY THE SENATE HOUSING COMMITTEE chaired by Senator Wiener. When the bill clears the Housing Committee on June 4th, it is then referred to the Judiciary Committee.
Call your Senators and those on the Housing and Judiciary Committees, please get your opposition in by submitting on the website no later than this Thursday May 30th if possible. Link: https://shou.senate.ca.gov/ If you support SB 13, please couple your opposition to these bills with your support for SB 13.
Senate Housing Committee Members: Senate Governance & Finance Members:
Senator Scott D. Wiener (Chair) Senator Mike McGuire (Chair)
Senator Mike Morrell (Vice Chair) Senator John M.W. Moorlach (Vice Chair)
Senator Patricia C. Bates Senator Jim Beall
Senator Anna M. Caballero Senator Robert M. Hertzberg
Senator Maria Elena Durazo Senator Melissa Hurtado
Senator Mike McGuire Senator Jim Nielsen
Senator John M. W. Moorlach Senator Scott D. Wiener
Senator Richard D. Roth
Senator Nancy Skinner
Senator Thomas J. Umberg
Senator Bob Wieckowski
Senate Judiciary Committee Members:
Senator Hannah-Beth Jackson (Chair)
Senator Andreas Borgeas (Vice Chair)
Senator Benjamin Allen
Senator Anna M. Caballero
Senator Brian W. Jones
Senator Bill Monning
Senator Henry I. Stern
Senator Thomas J. Umberg
Senator Bob Wieckowski
+AB 68 (Ting) (OPPOSE)(STATUS: REFERRED TO SENATE. Not yet assigned to Committee). The assault on single family zoning continues. AB 68:
Establishes a STATEWIDE "by right" 60 day approval process (no notice, no protections locally):
On single family lots, creation of 2 units within house footprint OR construction of one detached ADU PLUS a junior ADU, effectively turning every single family parcel in the State into triplex zoning.
On multifamily lots (including duplex zoning), permits multiple ADUs within an existing single-family home (no limits on density) OR 2 detached ADUs.
STATE WIDE, this removes any minimum lot size, maximum ADU size below 800 square feet and 16 feet in height (and the legislature has already demonstrated how willing it is to go back and revisit any limits year over year), require parking, setbacks greater than four feet,
changes local ordinances RETROACTIVELY to January 1, 2017 and removes all "discretionary processes, provisions, or requirements for those units" other than for places listed in the state Register of Historic Places. Thus, this eliminates all local designations including HPOZ Boards.
+AB 69 (Ting) (Oppose but not as much as some others.) )(STATUS: REFERRED TO SENATE.)
Requires the State Department of Housing and Community Development to have the California Building Standards Commission develop standards for micro units — accessory dwelling units and homes smaller than 800 square feet.
+AB 671 (Friedman)(Status: REFERRED TO SENATE. Oppose but not as much as others). Requires local agencies to include a plan that incentivizes and promotes the creation of ADUs that can be offered for rent for very low-, low- and moderate-income households in their housing elements.
+AB 881 (Bloom)(STATUS: In Senate, referred to Housing and Governance & Finance Committees)(OPPOSE) Eliminates ability of local jurisdiction to mandate that an applicant
for an ADU permit be an owner-occupant. Deletes language that permitted consideration of criteria and impact other than "adequacy of water and sewer services and the impact of accessory dwelling units on traffic flow and public safety." That eliminates historic designation including HPOZ, trash collection, and other important criteria.
+SB 13 (Wieckowski) (SUPPORT) Prohibits minimum square feet that would rule out efficiency units and prohibits requiring replacement parking but maintains local jurisdictions' ability to define height, setback, lot coverage, parking and size of an ADU related to a specified amount of total floor area. Perhaps most importantly, SB 13 allows a local agency to count an ADU for purposes of identifying adequate sites for housing and meeting housing goals. STATUS: REFERRED TO THE ASSEMBLY. Not yet assigned to Committees.
Dead bills (The pattern seems to be that ENABLING or FINANCING BILLS for local authorities to act never got out of Committee while the top down Sacramento mandates to all were pushed forward):
AB 1585 (Boerner/Horvath) Never made it out of a Committee in Assembly.
AB 1074 (Diep) Construction Bond Act of 2020. Never made it out of a Committee in Assembly.
AB 1239 (Cunningham) Never made it out of a Committee in Assembly. Pending in Assembly Housing Committee.
SB 15 (Portantino): Held in Appropriations Committee in Senate (which he chairs).