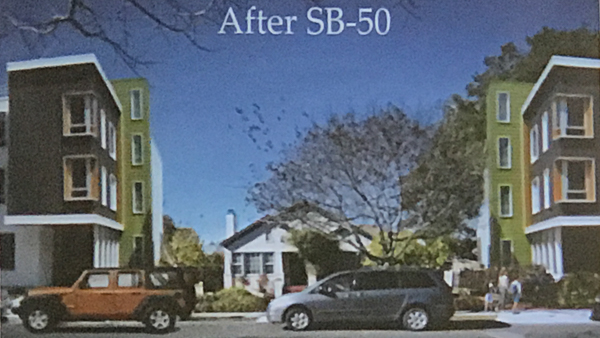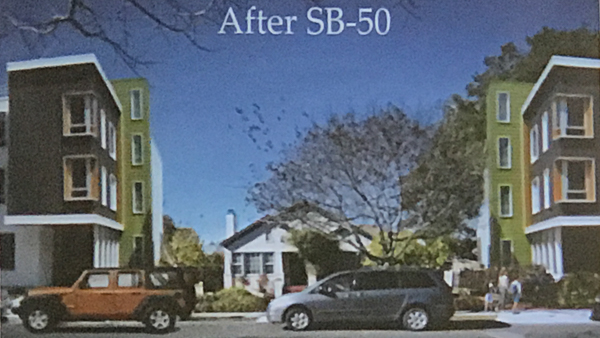 Update April 17, 2019
The Los Angeles City Council today voted unanimously 12-0 AGAINST the terrible gentrification law, SB 50, being peddled by state Sen. Scott Wiener.
City Councilman Paul Koretz slammed the widely-ridiculed SB 50 as "trickle down economics" that would gentrify much of Los Angeles and force the city's large working class further away from their jobs.
Koretz said Wiener's vision of erecting 6-story to 8-story buildings in thousands of low-rise and single-family residential areas is focused on the wrong questions and wrong answers.
Wiener "has called single-family homes immoral" and his bill would destroy yards and space to raise a family in L.A., Koretz told the packed and cheering Los Angeles City Council chambers. Council members David Ryu and Mike Bonin cited their own long lists of objections to the misguided bill.
"Los Angeles has 100,000 fully approved housing units that have not been built" by developers, Koretz said. It would be absurd to invite developers to now wipe out vibrant existing neighborhoods while they sit like gloating toads on land they can develop right now.
Angelenos you were awesome today. You came downtown to City Hall this morning to oppose SB 50 from San Fernando Valley, South L.A., Koreatown, Eastside, Northeast L.A., Westside, West Adams, Boyle Heights, Crenshaw, Sunland-Tujunga, Hollywood and more.
THANK YOU ANGELENOS! Your next fun, easy, duty happens right now! Let's build on this HUGE success.
From home or work right now, send a quick easy email to the Sacramento legislative committee that has the power to KILL SB 50 on April 24 — the Governance and Finance Committee.  Email Anton.favorini-csorba@sen.ca.gov
April 15, 2019
HGNNC voted to oppose SB 50, which would allow very dense development, even in single-family zones, if they are near bus routes or light rail or jobs centers. This would mean almost every part of our Neighborhood Council area. Meanwhile, there are not any strong guarantees that the new housing will be affordable or help with the housing crisis.
We invite you to share your own strong opposition to SB 50 (Weiner) with State Senator Bradford and Assemblymember Mike A. Gipson and any other State legislators. Please comment by April 16 by 5 p.m.
April 12, 2019 Letter CF 19-0002-S38 SB50 Weiner