Harbor Gateway North Sponsors Community Emergency Preparedness Classes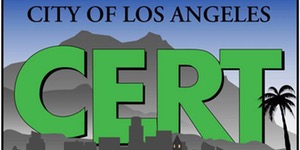 Join our Free Community Emergency Response Training Class weekly on Wednesday starting May 3 for 7 Wednesdays. Firefighter Randall Opperman will help get you disaster ready!
The Harbor Gateway North Neighborhood Council is sponsoring seven CERT (Community Emergency Response Team) classes starting tomorrow, Wed. May 3 at 7 p.m. in the auditorium of the 135th Street School, 801 W. 135th Street, Gardena, CA 90247. Come at 6:30 p.m. for light refreshments. Attend all seven classes (or some of us and complete your training during another session) and receive one of our red emergency preparedness bags with a flashlight and first aid kit.
The classes are taught by the Los Angeles Fire Department and cover the supplies you need to have on hand to survive for 5-7 days at home with possibly no electricity or gas, fire safety, light search and rescue, team organization and disaster psychology, and how to set up medical services during a disaster.
Find out more and Register online at https://www.eventbrite.com/e/lafd-cert-harbor-gateway-tickets-31108567563
NSTRUCTOR: FIREFIGHTER RANDALL OPPERMAN (213) 202-3129
7:00PM – 9:30PM
Class 1 – May 3 (Introduction, Disaster Awareness)
Class 2 – May 10 (Disaster Fire Suppression Techniques)
Class 3 – May 17 (Disaster Medical Operations 1)
Class 4 – May 24 (Disaster Medical Operations 2)
Class 5 – May 31 (Light Search & Rescue Operations)
Class 6 – Jun 7 (Team Organization & Disaster Psychology)
Class 7 – Jun 14 (Terrorism & Homeland Defense)
YOU MUST ATTEND ALL CLASSES TO RECEIVE A "CERTIFICATE OF COMPLETION".