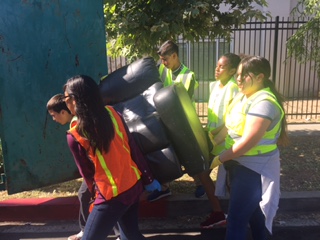 More than 30 students, residents and stakeholders took part in Environmental Charter Middle School's Clean- up Day event on Saturday, May 20, 2017. Trash was removed, bulky items discarded and streets and alleyways were swept from 167th Street to Gardena Avenue between Hoover Street and Vermont Avenue.
Also, trash was removed at Gardena Willows Wetland Preserve, near Vermont Avenue and Artesia Blvd. In addition, vegetables were planted and garden boxes were stenciled on-campus.
Environmental Charter Middle School Gardena (ECMS-G), 812 W. 165th Place, is a stakeholder with Harbor Gateway North Neighborhood Council (HGNNC) and is located in its boundaries.
Future outstanding Clean up Days like this one are planned as bi-monthly events that started in January 2017  and will continue in the fall as the current semester ends in June. More upcoming Green Up Days will be posted on the HGNNC website. Stakeholders, both youth and adult, are invited to participate. Call ECMS-G for details at (310) 425-1605.