What DIY Democracy Looks Like In An Underserved Slice Of LA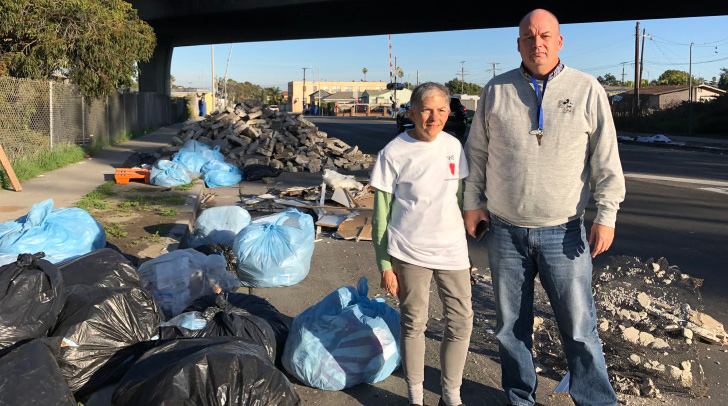 Harbor Gateway North is a neighborhood so divided by freeways and railroads and surrounded by other cities that some residents don't know they actually live within Los Angeles city boundaries.
It can make it hard to connect to City Hall and vital services like the police and fire departments whose stations may be far away.
That's where Harbor Gateway North Neighborhood Council plays a vital role.
It's one of 99 neighborhood councils in Los Angeles, city-funded groups headed up by residents, businesspeople and other local stakeholders who are elected to serve two-year terms.
Closely involved in the community, they aim to be the eyes and ears on the ground for the city, a form of DIY democracy.
They're overseen by the city Department of Neighborhood Empowerment, and were enabled 20 years ago with a voter-approved change in the city's governing charter.
ADDING TO THE CITY TO-DO LIST
Harbor Gateway North Neighborhood Council meeting in January 2020 (Sharon McNary/LAist)
One of their biggest roles is tackling community improvement efforts. Like reminding the city what trees need to be trimmed, which sidewalks need to be fixed, and which potholes need filling.
That list of requests is how I came into contact with the Harbor Gateway North Neighborhood Council. I was browsing through some city budget documents online and they had submitted the longest, most minutely detailed budget priorities request to the city that I had ever seen from such a group.
Nine pages long — a to-do list of 281 different tasks to 12 city departments. That letter was drafted by Neighborhood Council Secretary Rosalie Preston a few years ago with input from others on the council. It's been submitted to the city each of the past few years.
"Not much changes," Preston said. "I notice a few things have been accomplished since our last letter."
But she explains, "The letter is so that the city is aware there is a need for funding. And then ideally, when they have money, they'll have the request."
Neighborhood Council member Eva Cooper Pace got involved 10 years ago when she was unable to get the city to trim some trees and tow away abandoned stripped cars.
"I came to the meeting, they told me you should join the council and have a voice. And I wanted to have a voice," she said.
Now, she says, she has that voice.
"We go to bat for people at City Hall. We're constantly at City Hall, depending on the service, depending on the request, depending on the problem."
WHO YOU GONNA CALL?
The Council's chairman, Dave Matthews suffered his own city identity crisis when he first moved to the area several years ago. He bought a condo in the narrow corridor of city territory along the 110 Freeway that connects the bulk of L.A. in the north to the Harbor and San Pedro to the south.
He thought he lived in neighboring Gardena.
"I was going to the Gardena City Hall, and city council meetings, and they finally said, we hate to tell you this, but you don't live in Gardena," Matthews said.
The 10 square miles of Harbor Gateway North are bounded by Carson, Torrance, Gardena, Compton and unincorporated L.A. County and some residents have mailing addresses in those cities. But when they call local police or fire departments in those areas for help, they are directed back to L.A. city services, causing some delay and confusion.
"So it gets really confusing in terms of who you call for what," Matthews said.
The council hands out a two-sided page of phone numbers and contact emails for many local services.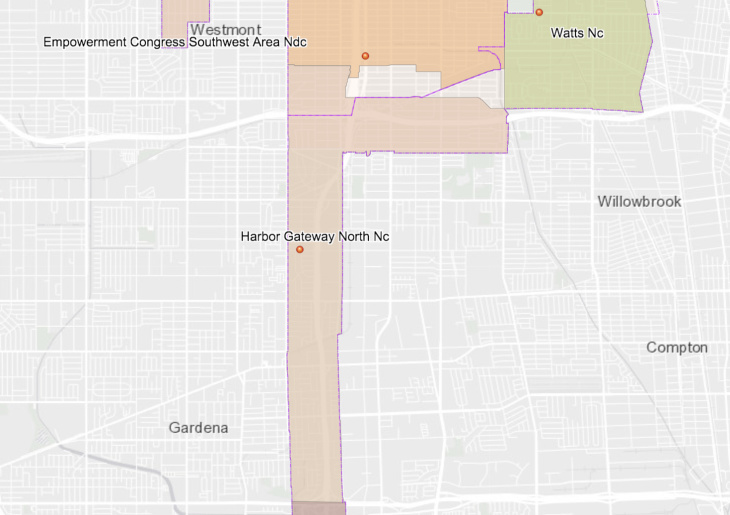 KEEPING AN EYE OUT FOR ILLEGAL DUMPING
A lot of the work of the neighborhood council is getting residents to take a more active role in calling for help, for example, reporting illegal dumping on streets and under the area's many freeway overpasses.
One afternoon in late January, I joined Matthews as he drove around the area. We came across a big pile of construction rubble that had been dumped in the middle of 117th Street under one of the tall, sweeping overpasses of the 105 Freeway.
"The dumping here, it's insane," he said. "This happened today. This was not here yesterday."
He used his phone to call in the incident to a city office and got some surprising good news.
"Somebody has reported this already," he said.
As a neighborhood council, they've adopted some unorthodox tactics. Like training some local seniors to use Twitter when they witness dumping.
"I ended up getting texts from the seniors that caught the person doing it," Matthews said. "And we ended up renting a U-Haul and taking all the stuff back to the person's home.."
FREEWAYS AND RAILROADS WHERE POLICE DON'T GO
Another problem is that Los Angeles police work mainly in Los Angeles territory, but not the freeways, which is Caltrans and CHP area, or the railroad rights of way, which is Union Pacific Railroad turf.
That means that illegal dumping in those areas, and some homeless encampments or other problems cropping up take more time to get addressed. Union Pacific has a very limited security patrol staff and Caltrans and CHP mostly stick to the freeways.
For the council, the goal is getting all those agencies working together. And that's the product of lots of meetings and requests.
"Getting everyone together in a room is a really great opportunity to rip the Band-Aid off and focus on the problems and working together," Matthews said. "When everybody wants the same solution, it's not going to come across as complaining because we all want to figure out how we're going to fix it."
To get better police coverage where it's needed, the Harbor Gateway North Neighborhood Council has gotten the LAPD to negotiate with the railroad for a blanket permission to enter railroad rights of way.
ENDORSING HOMES FOR THE HOMELESS AND CLEARING ENCAMPMENTS
As we drove around, he said they also try to get the city to deal with homeless encampments.
The group has worked to clear away a few encampments and connect their residents with case workers to help them get jobs and homes. It's also endorsed the construction or conversion of three apartment buildings into places that homeless people can live. It's a slow process, far from completely successful, Matthews said.
There were long lines of RVs parked for miles along Figueroa Ave. serving as alternative housing. The council would prefer those people had permanent homes, and on the day we saw it, the sidewalks around the mobile homes were, for the most part, clean and clear. However, Matthews said there were discussions of barring RV parking due to the sanitary hazard from human waste and litter that accumulated in some areas.
HOW TO GET INVOLVED
Your own area's Neighborhood Council may be found on L.A.'s list. Start by going to a few meetings, maybe join a committee, and if you want deeper involvement, run for one of the council seats.
First Image: Rosalie Preston and Dave Matthews, of the Harbor Gateway North Neighborhood Council, encountered illegal dumping under an overpass of the 105 Freeway. (Sharon McNary/LAist)