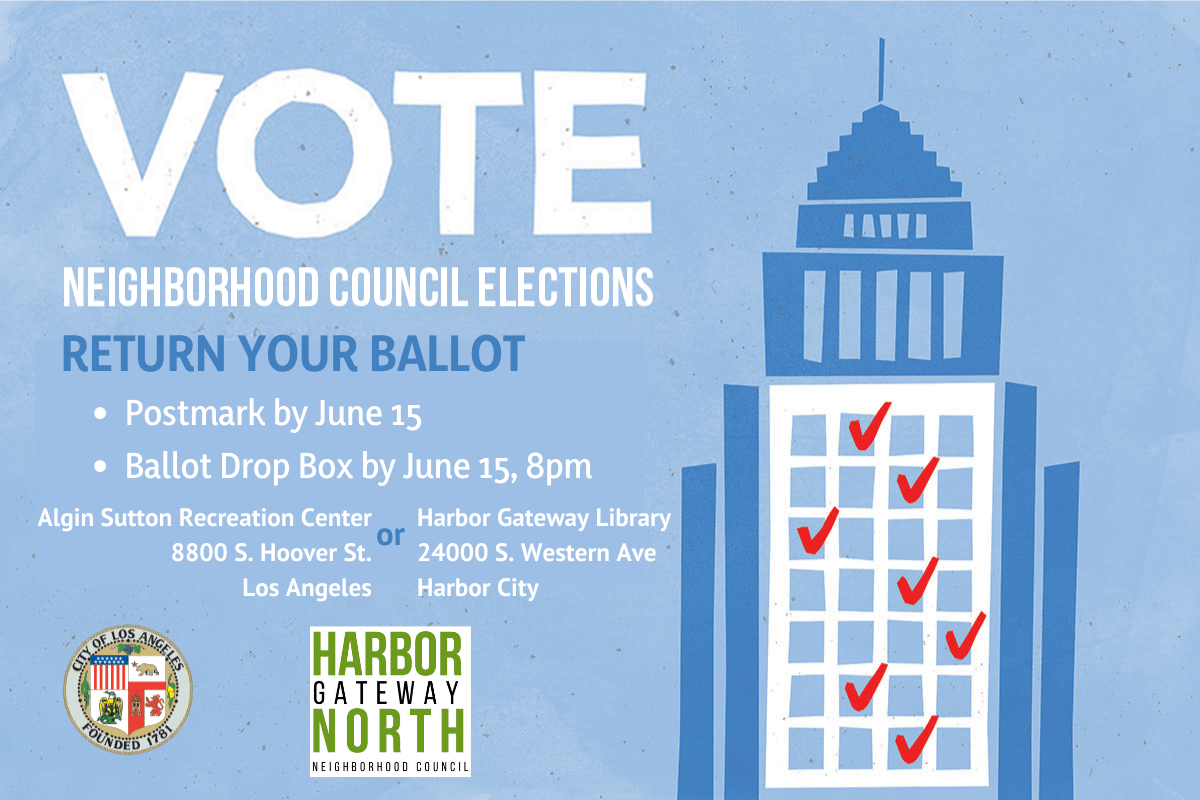 Return Your Ballot
Those who registered for a Neighborhood Council election ballot by the June 8 deadline should be receiving their ballots now. Mark your ballot using black or blue ink and follow the instructions for signing on the return envelope. Ballots must be mailed by June 15, but the City Clerk will allow until June 25 for ballots to arrive.
You can also put ballots in any of the seven official drop boxes for Region 12. The two closest to the Harbor Gateway North area are located at:
Algin Sutton Recreation Center, 8800 S. Hoover Street, Los Angeles, CA 90044 and
Harbor City/Harbor Gateway Branch Library, 24000 S. Western Avenue, Harbor City, CA 90710.
The official drop boxes will close at 8 p.m. on Tues. June 15.
If you registered to vote by the deadline and have not received your ballot by June 11, call the City Clerk at 213-978-0444 to verify that your registration was received and to resolve any issues with registration. In cases where necessary, the City Clerk's office will be hand-delivering ballots on June 15 so that voters can meet the ballot return deadline.
Consider the Candidates
See our 46 Candidates on the City Clerk Website
Listen to a candidate forum. Please note, we had two forums and not all candidates were present at both forums.
Hear from the candidates by listening to the Candidate Forum Recording April 27
Hear from the candidates by listening to the Candidate Forum Recording April 29
Election Timeline