Working on how to vote? You can get details about ballot propositions and more at the non partisan site created by the League of Women Voters: https://votersedge.org/
Got Judges? Elect Justice CA helps voters make informed voting decisions about the candidates who shape their local criminal justice system: district attorneys, judges, sheriffs, mayors, and city council members.
You can also access the PowerPoint presentation from our Ballot Measures Pros & Cons Meeting which will enable you to quickly get to the topic of interest.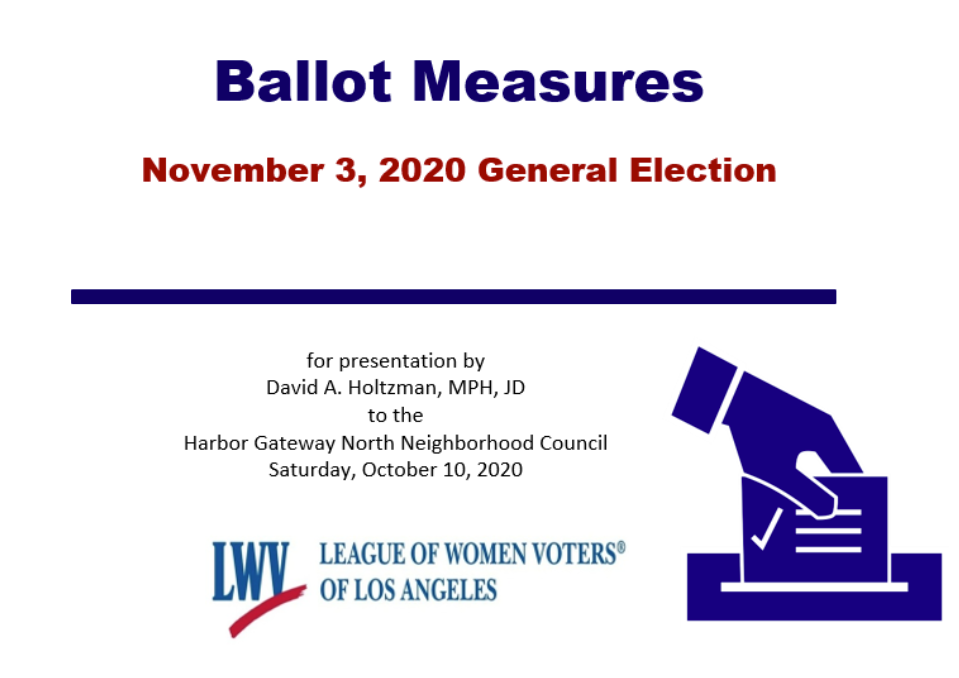 Did you know you have multiple options on where to vote?
All voters have been mailed a ballot. You may vote by:
Mailing it back
Putting it in a voting by mail drop box at the Harbor Freeway Station, Helen Keller Park, AC Bilbrew Library
Bring your ballot and vote in person at Athens Park, West Athens Elementary School, Rosecrans Recreation Center, Dae Hueng Korean Presbyterian Church. Find a location.
Select Vote Centers will be available beginning Saturday, October 24. All Vote Centers will be available beginning Friday, October 30.
Vote Centers will be open every day from 10 AM to 7 PM during the early voting period. On Election Day Vote Centers will be open from 7 AM to 8 PM. If you vote in person, avoid the line and go early!
You can sign up to track your ballot by subscribing to Where's My Ballot and you can confirm your ballot was received and tallied through the Vote by Mail Status Tool.
More information on how to return your ballot at lavote.net