Participate in the LA City Budget 2023-2024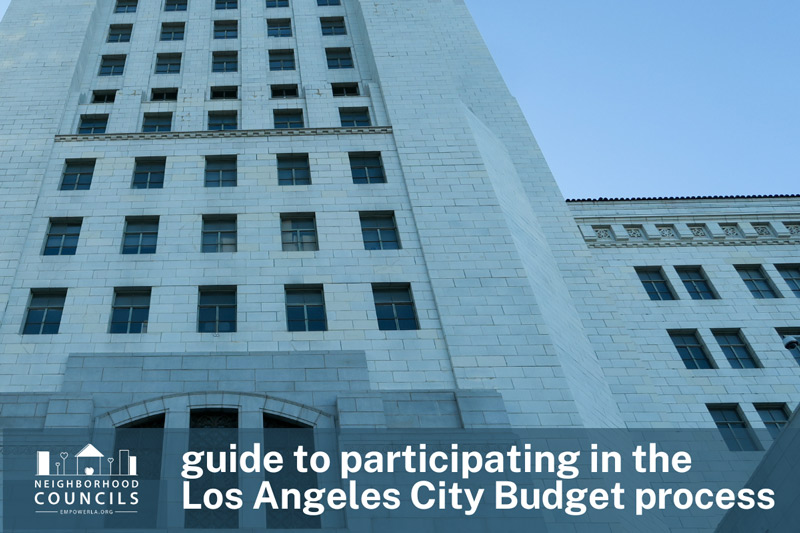 How should the City of Los Angeles spend its money? For the next two weeks, the City Council is discussing LA's budget for the coming fiscal year (which begins July 1), so now is the time to weigh in as an individual.
The Harbor Gateway North Neighborhood Council will be sending its own budget letter later in May.
The Budget, Finance, and Innovation Committee's hearings to review the budgets proposed for each City department and program began on April 25 and run through Friday, May 12.
Here is a guide to participating in the City of Los Angeles budget process, including details on NC-related discussions, important links, and an overview of what's in the Department of Neighborhood Empowerment's budget proposal for Fiscal Year 2023-2024.
Steps to engage in the LA City Budget process
Visit the 
schedule of departmental hearings
 to learn when the hearings that you're interested in will take place. Hearings are happening now through May 12. Even if the department you would like to comment on has already appeared before the Committee, your letters may be submitted until this hearing series closes.
2) Formulate your position
Discussion at these hearings will center on the Mayor's budget proposal and the requests submitted by departments, so your arguments will have more impact if you frame them within the context of what appears in these Mayoral or departmental proposals. Is there an existing part of these proposals that aligns with something you would like to see funded next year? Links to all important Budget documents are in the "Budget Links + Documents" article below. Particularly ask for funding for the Department which could address issues in your neighborhood, such as illegal dumping, badly lifted sidewalks, alley repair, traffic calming measures such as speed humps, etc., which are mostly under Public Works – Sanitation, Street Services, etc.
3) Share your opinion in person, in a public comment
The Budget, Finance and Innovation Committee is only accepting public comment in person at City Hall on these dates: Friday April 28, Tuesday May 2, and Thursday May 4. More details below on how to make an online comment via the City Clerk Council File system.
4) Submit a question for the hearings
Questions may be about specific departments or the programs and services a department oversees.
5) Write a letter
If sending a letter as an individual, send it to the members of the Budget, Finance, and Innovation Committee. The Committee is chaired by Bob Blumenfield and members include Curren Price, Katy Yaroslavsky, Tim McOsker, and Monica Rodriguez.
You may also want to copy your communications to the full City Council, as the full Council will consider the Committee's recommendations before deciding whether to adopt them. City elected official contact info is available at 
https://lacity.gov/directory
While it's good to submit letters as early as possible, you can still send a letter about a department or program even after their hearing has passed, until these budget sessions close.
Budget links + documents
The City Council File for the 2023-2024 City of Los Angeles budget is 
CF 23-0600
.
The Mayor's documents include a primary 
proposed budget
 as well as an illustrated, shorter 
budget summary
 which provides a quick overview of what's in this year's proposal.
Details regarding the Mayor's proposals for each City department and City program are in two separate "Blue Book" volumes.