Grab & Go
There are three Grab & Go sites in the HGNNC Area:
Currently the Harbor Gateway North area has three Grab and Go locations for breakfast and lunch or lunch and snack boxes for those who are of elementary through high school age:
Boys and Girls Club – Harbor Gateway Gardena
802 W. Gardena Blvd.
12 noon to 2 pm
lunch and snack
Peary Middle School
1415 W. Gardena Blvd. (at Normandie)
7 am to 11 am
breakfast and lunch
Samuel Gompers Middle School
234 E. 112th Street
7 am to 11 am
breakfast and lunch
Safe Grocery Shopping
This is a helpful article from LAist on how to buy and store groceries in a safe manner
Where to get financial and other assistance LAist article
How to sanitize purchases when you get home:
Free COVID-19 Tests
If you fit the following criteria
Those with symptoms who are 65 and older
Those with symptoms who have underlying chronic health conditions
Those who are subject to a mandatory 14 day quarantine period due to a confirmed
COVID-19 exposure (with more than 7 days of quarantine remaining)
Volunteer Opportunities
Donate to food banks and volunteer to ensure our most vulnerable populations are still able to provide for their families. Much needed items include canned goods, peanut butter, toilet paper, antibacterial cleansers, and financial contributions.
Volunteer with the American Red Cross to help distribute meals to students affected by school closures or as a volunteer blood donor to address the current blood shortage.
Do neighbor check-ins. Offer to pick up groceries or medications for those who aren't able to and stay connected by calling your neighbors, friends, and loved ones who might appreciate human connection despite social distancing.
Consider virtual volunteer opportunities with organizations like L.A. Works.
Check-in with your local homebound meal delivery programs. Many of them are scaling up to support the increased need and are looking for volunteers: find a location near you and call to ask if they need assistance.
Contribute to our L.A. Emergency COVID-19 Crisis Fund to support the City of L.A.'s efforts to support families, health care workers, small businesses, our unhoused neighbors, and more.
Face Masks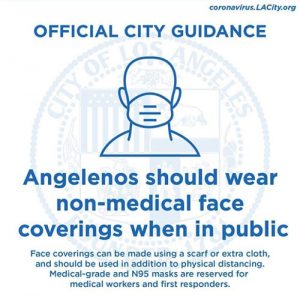 The Mayor shares: Early data suggests many who are infected with COVID-19 are not symptomatic, which is why we are recommending you use cloth face coverings plus physical distancing for essential activities. Do not use surgical and N95 masks, which are reserved for first responders and medical workers.
LAUSD Mental Health