Prom Dress Gift-Away
March 14, 2020 @ 11:00 am

-

3:00 pm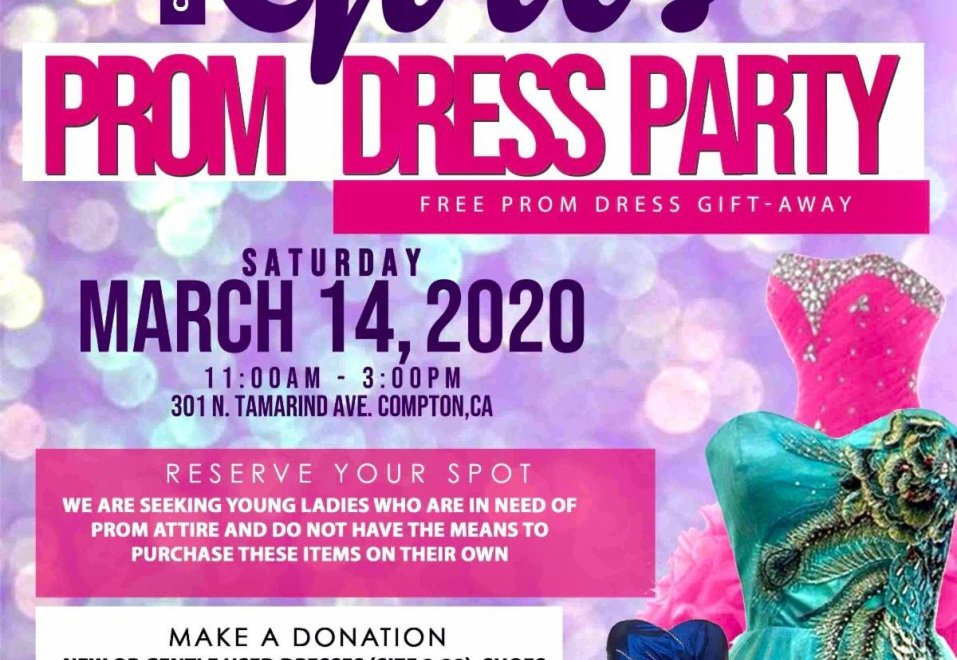 The Positive Results Corporation (PRC), in partnership with Compton Mayor Aja Brown, will host the 4th Annual Prom Dress Gift-Away!  It's every girl's dream to wear an amazingly beautiful dress to prom. But for many, economic insecurities, homelessness, domestic violence, living in foster care or other difficult issues, the prospect of Prom has become a distant reality. The dress, shoes, accessories, and ticket can end up costing well over $500.
PRC's goal is to serve as many youths who would like to attend Prom. We provide a delightful shopping experience, a large selection of beautiful gowns, women's tux's and special occasion outfits, sizes 0-30, shoe sizes 4-14, plus accessories, and EVERYTHING IS FREE, making their prom a "Magical Dream, and a once in a lifetime experience."
We welcome everyone, and NO intrusive questions are asked! If you know someone who needs a gown and accessories, please register them at info@prc123.org or call us at (323) 787-9252 for additional information.
No identification or documentation required! All we need is their name, email, dress size, school and zip code! Feel free to share this event with schools, organizations, churches, parents and youth! Everyone Is Really and Truly Welcome!
HOW CAN YOU HELP? We need volunteers. LOTS of wonderful, happy and helpful volunteers! Volunteers will label and tag all clothing and accessories, set up, prep and clean up venue, greet guest, act as personal stylist, and serve guests food.
The deadline to donate clothing items is March 8, 2020 
New and/or Clean, Gently Used Evening Gowns, Prom Dresses, Women's Evening Suits
Shoes, Evening Bags, and Wraps
New Makeup, Jewelry and Perfume
Under-garments (Brassieres, Spanx, Slips)
WE ALSO NEED THE FOLLOWING IN-KIND SERVICES:
Female photographers and videographer
Hair, Nail and Makeup Artist (Day of and actual prom date which varies by school)
4 Seamstresses on the day of the event
Dry Cleaners (To clean gowns donated. You set the limit you will donate cleaning for)
Limo and scholarship donations for students
Please contact us ASAP! info@prc123.org
Register at info@prc123.org or call us at (323) 787-9252 for additional information.