Prologis Draft EIR Town Hall
September 21, 2021 @ 6:30 pm

-

8:30 pm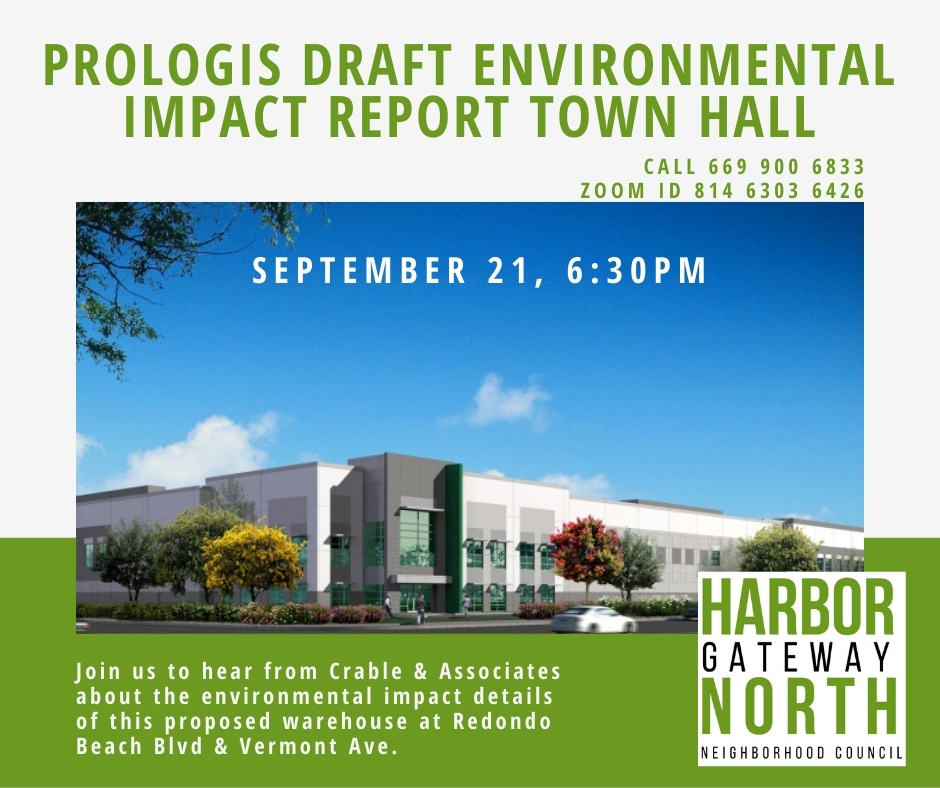 https://us02web.zoom.us/j/81463036426
To join by telephone dial 1-888-475-4499, 1-669-900-6833, 1-877-853-5257, 1-833-548-0276 or 833-548-0282, enter webinar ID 814 6303 6426 and press #
To request to speak, press *9; press *6 to unmute yourself
HGNNC Special Board Prologis Town Hall September 21_ 2021 FINAL
Dear Community Members,
On August 19, 2021, the Draft Environmental Impact Report (DEIR) for the proposed Prologis warehouse at 15116-15216 S. Vermont Avenue; 747-861 W. Redondo Beach Blvd. was released for public comment. The proposal is for a 340,298 sq. feet warehouse, which would operate 24 hours a day, seven days a week.
The Harbor Gateway North Neighborhood Council is in the process of preparing its own comments on the DEIR. For that purpose, the Neighborhood Council is using Crable & Associates, an environmental consulting company based in Pasadena to help with the review and comments.
On Tues. September 21 at 6:30 p.m., Crable & Associates will be present to explain the environmental review process under CEQA and answer your questions.
You may view the many sections of the draft EIR on topics such as Air Quality, Noise, and Transportation, as well as the more detailed appendices at https://planning.lacity.org/development-services/eir/prologis-vermont-and-redondo-project-0
Public comment is due by 4 p.m. on Monday October 4. Email City Planner Jivar Afshar jivar.afshar@lacity.org with your comments and put the case number ENV-2017-1015-EIR in the subject line.
For future updates on this and other community issues, email Harbor Gateway North Neighborhood Council at hgnnc@sbcglobal.net or sign up via our website www.harborgatewaynorth.org or leave us a message at 310-768-3853.