Planning and Land Use Committee Meeting
April 28 @ 6:30 pm

-

8:00 pm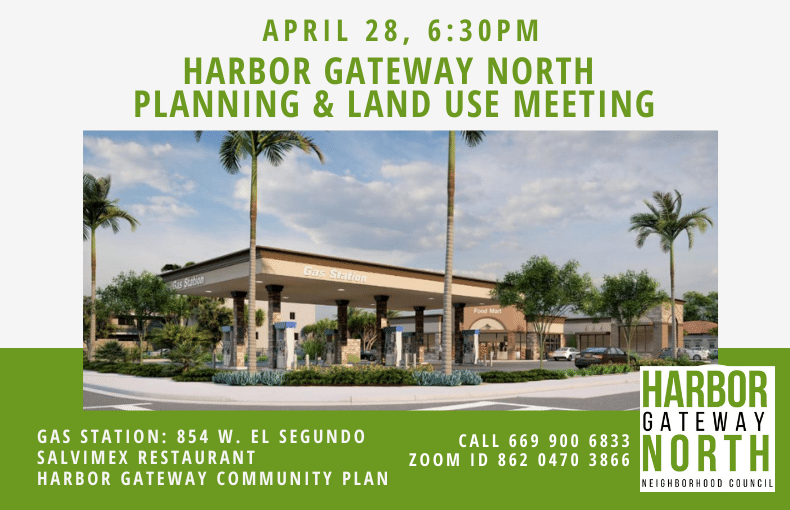 The Harbor Gateway North Neighborhood Council's Planning and Land Use Committee will hold its next meeting on Thurs. April 28 at 6:30 pm via Zoom.
The Battir Oil representative who owns the current Shell Oil gas station at 854 W. El Segundo Blvd. will present the proposal for a new Arco gas station and mini-mart and explain the delay in obtaining the demolition permit so that work on the new buildings can begin.
A representative for SalviMex110 restaurant, 14118 S. Vermont Avenue, will present the details of their application to expand their existing restaurant and add a full line of alcoholic beverages for onsite consumption plus live entertainment, Karaoke, two pool tables, and open hours until 2 a.m.
The Committee will also review a draft comment letter on the current proposal for the updated Harbor Gateway Community Plan.
April 28, 2022 Planning and Land Use Agenda
Zoom meeting link: https://us02web.zoom.us/j/86204703866
Webinar ID: 862 0470 3866
For those calling in use: 1-888-475-4499, 1-669-900-6833 (may be best for iPhones), 1-877-853-5257, 1-833-548-0276, and 1-833-548-0282
Press *9 to request to speak and *6 to unmute yourself.
Meeting Documents: