General Membership Meeting
October 26, 2021 @ 6:30 pm

-

8:30 pm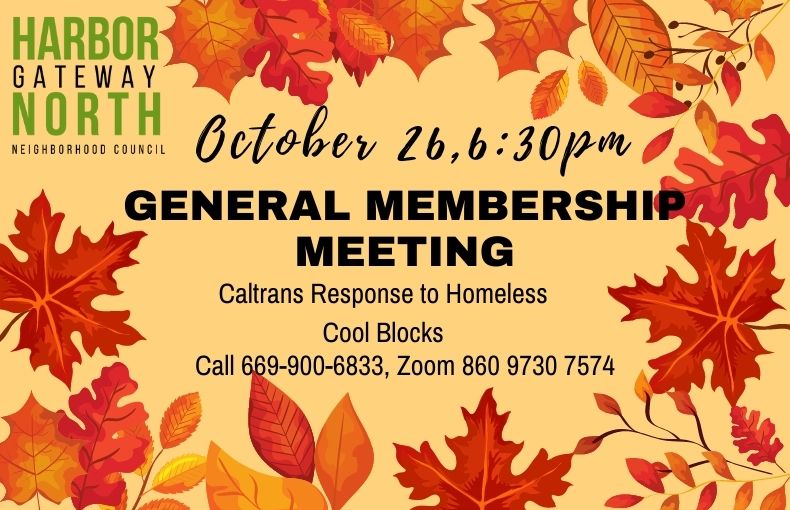 The Harbor Gateway North Neighborhood Council will hold a General Membership meeting on Tues. October 26 at 6:30 pm.
The meeting will feature speakers from Caltrans on how Caltrans responds to reports of homeless living along the freeways, a speaker about the Cool Blocks program which is seeking 200 block volunteers throughout the City of Los Angeles to take part in an upcoming grant program to get to know your neighbors, create safer blocks, and implement projects to help counter global warming, and a speaker about the new Council District boundary lines that have been drawn up after the 2020 Census. It looks like our small section of District 6 will remain in Council District 8 while the rest of the Neighborhood Council remains in Council District 15.
Council District 15 will also speak about a new proposal to honor the late Betty Hawkins who served as the Treasurer and then District 4 Representative on the HGNNC Board for more than sixteen years.
Zoom meeting link: https://us02web.zoom.us/j/86097307574
Webinar ID: 860 9730 7574
For those calling in use: 1-888-475-4499, 1-669-900-6833 (may be best for iPhones), 1-877-853-5257, 1-833-548-0276, and 1-833-548-0282
Press *9 to request to speak and *6 to unmute yourself.
Meeting documents: