Civic Life for All Angelenos
June 21, 2019 @ 6:00 pm

-

8:30 pm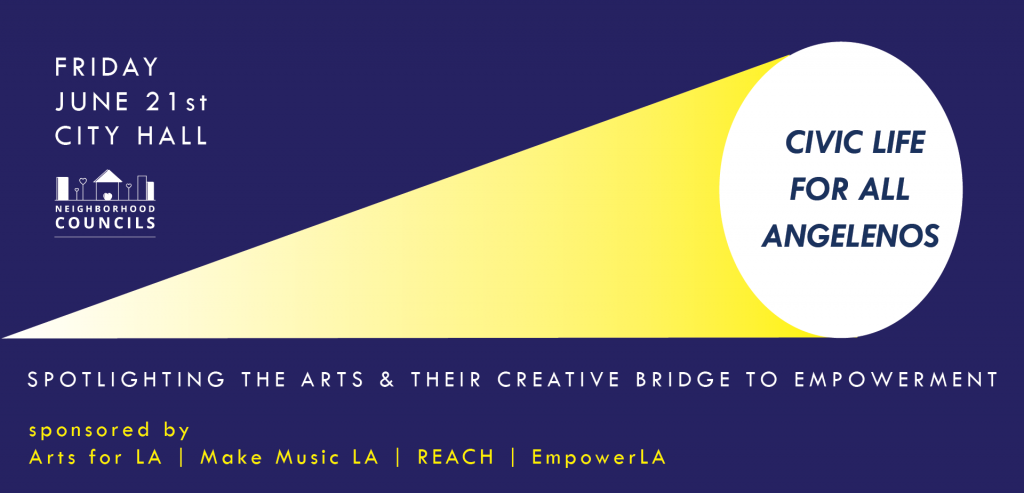 You are invited to our second Civic Life for All Angelenos dialogue with the focus on the ARTS.
Our first Civic Life dialogue focused on the Immigrant and Formerly Incarcerated communities. It is our hope by doing these dialogues, we give you exposure to these stakeholder groups so you can connect, learn, and see how they are an important part of the Neighborhood Council system.
Arts Leadership for Neighborhood Empowerment
How can the arts serve and empower YOUR community?
Can they help to…
Revitalize our economy?
Educate our youth?
Activate civic engagement?
Connect diverse communities, building understanding and tolerance?
Heal from domestic abuse, addiction, incarceration, mental health issues and more?
ABSOLUTELY. The arts have already been proven to be effective in all these areas and more. It's time to R.E.A.C.H. for the arts to empower civic life at the grassroots.
Join us at City Hall on Friday evening, June 21st as we bring leading arts advocates and urban planners together with leaders from across our Neighborhood Council System, Empower LA, for refreshments,
entertainment, and a lively conversation about the change we can make together.
This event comes on the wave of a true narrative shift in how civic leaders understand the value and role of the arts. Nationwide, we see the arts in prisons, rehabs, hospitals, in STEAM education, and for economic planning. The Board of Supervisors' recent motion to create the first ever "Arts Department" for LA County (first in the nation of its kind) is just one example of this narrative shift locally. The motion passed unanimously because our leaders now recognize the need to embed the arts at the core of our civic aims across every sector.
That said, there are real pitfalls to avoid when the arts aren't actively considered in civic planning. For example, art galleries have become flashpoints for protests about gentrification. Community organizers recognize that artists kickstart economic development, which too often leaves residents displaced, unable to afford to live in their own communities. Protesters see these galleries as the first battleground in a struggle for neighborhood control and have serious concerns about the role of artists in our communities.
How do we ensure that local residents aren't pushed out by gentrification but are instead lifted up by a community-driven, development-conscious, thriving arts community?
See what our thoughtful leaders have to say about all this and more. Find out how to transform your community with LA's wonderful Neighborhood Council system and make a change through thoughtful engagement with the arts.
Friday, June 21 st , 2019
6pm – 8:30pm
Refreshments | Free Parking | Entertainment | Dialogue
SPONSORED BY:
Arts for LA, Make Music LA, REACH, EmpowerLA
RSVP here: http://bit.ly/ArtsAndEmpowerment