Board Meeting
June 8, 2021 @ 6:00 pm

-

8:30 pm
The Harbor Gateway North Neighborhood Council will hold their next Board meeting on Tues. June 8 at 6:30 pm.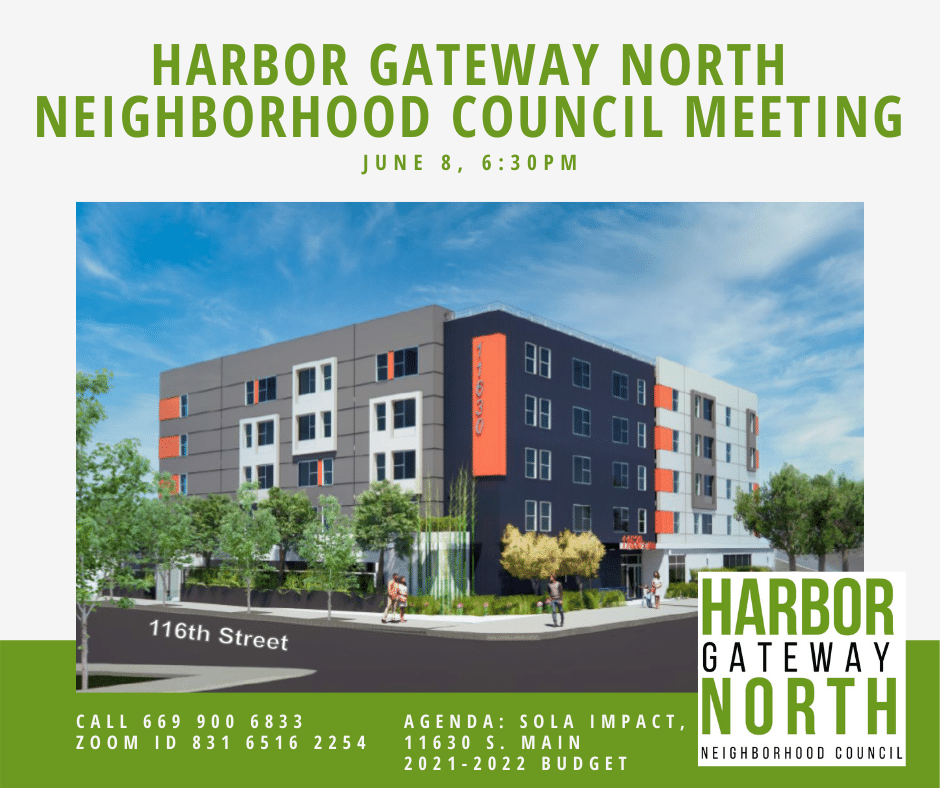 The Board will discuss approval of the proposal by SoLA Impact for an 84-unit apartment building at 11620 S. Main Street, which will include 20 low-income units in a Transit Oriented Community zone (ZA-2020-7786-TOC-ZAI-SPR-HCA; ENV-2020-7787-EAF), as recommended by the Planning and Land Use Committee. The Board will also review the proposed budget for the 2021-2022 fiscal year and the Administrative Packet that are both required to be submitted by City Clerk Funding.
This will be the current Board's last meeting of the two-year term. In July, a new Board will be seated after the Neighborhood Council election is finalized.
Meeting Documents:
Zoom meeting link: https://us02web.zoom.us/j/83165162254
webinar ID: 831 6516 2254
For those calling in use: 1-888-475-4499, 1-669-900-6833 (may be best for iPhones), 1-877-853-5257, 1-833-548-0276, and 1-833-548-0282
Press *9 to request to speak and *6 to unmute yourself.