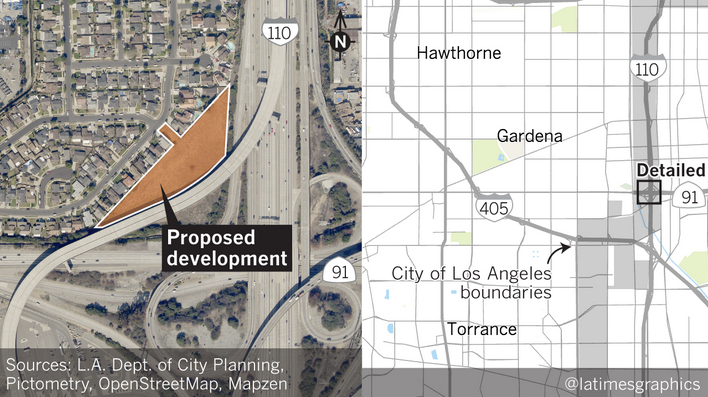 Developer Ali Awad proposed to build 24 houses in a vacant space at the northeast corner of the 110 & 91 freeway interchange five years ago. When his proposal was declined, he restructured his proposal to include 15 houses. Neighbors are concerned about the health hazards, noise and traffic for that project. Others say the health hazards and noise are the same as for everyone else in Harbor Gateway. They further point to the proximity of Da Vinci developments to freeways downtown.
The developer proposes to minimize windows facing the freeway and to include air conditioning systems with high performing air filters. Harbor Gateway Board Member Rosalie Preston expressed concerns that residents will be at risk for pollution when they are out in their yards.
The developer appealed the most recent decision by the planning commission.
Read LA Times article on proposed development
City Planning and Land Use Committee Agenda May 23, 2017
Determination letter 17236 S Hoover St – zone change 3-28-2017
Determination letter 17236 S Hoover St tract map 3-28-2017
Harbor Area Planning Commission Agenda Jan 17 2017
Harbor Area Planning Commission Agenda Dec 20, 2016 – 17236 S. Hoover Street